Jul 27
Should I Redesign My Website?
It's a question we get asked a lot. Maybe your website is still somewhat effective for users—if it's not broke, don't fix it, right? In any industry it's important to stay ahead of the curve or at least move with the times, this is particularly applicable to the Web and eCommerce industry. New technology and better methods contribute to making the industry an ever changing one. What's cutting edge or best practice can become outdated over time leading to a drop off in search engine rankings or worse still, a drop off in sales.
Evolution of a Website
Lightyear have worked with Costelloe + Costelloe for over 6 years and during that time we've completed two website redesigns for them. Our first website together was built on the Zen Cart eCommerce platform back in 2012 and ticked all the boxes at the time. We continued working together on the site, building in add-ons to keep the website fresh but ultimately we arrived at a point when we knew the website had served its purpose. It had reached its noble end. It was time to move on. Why? The industry was moving on. The rise of mobile and tablet devices led to more and more users accessing the site through them. Google was beginning to change how it ranked websites.
Better Website. Better Results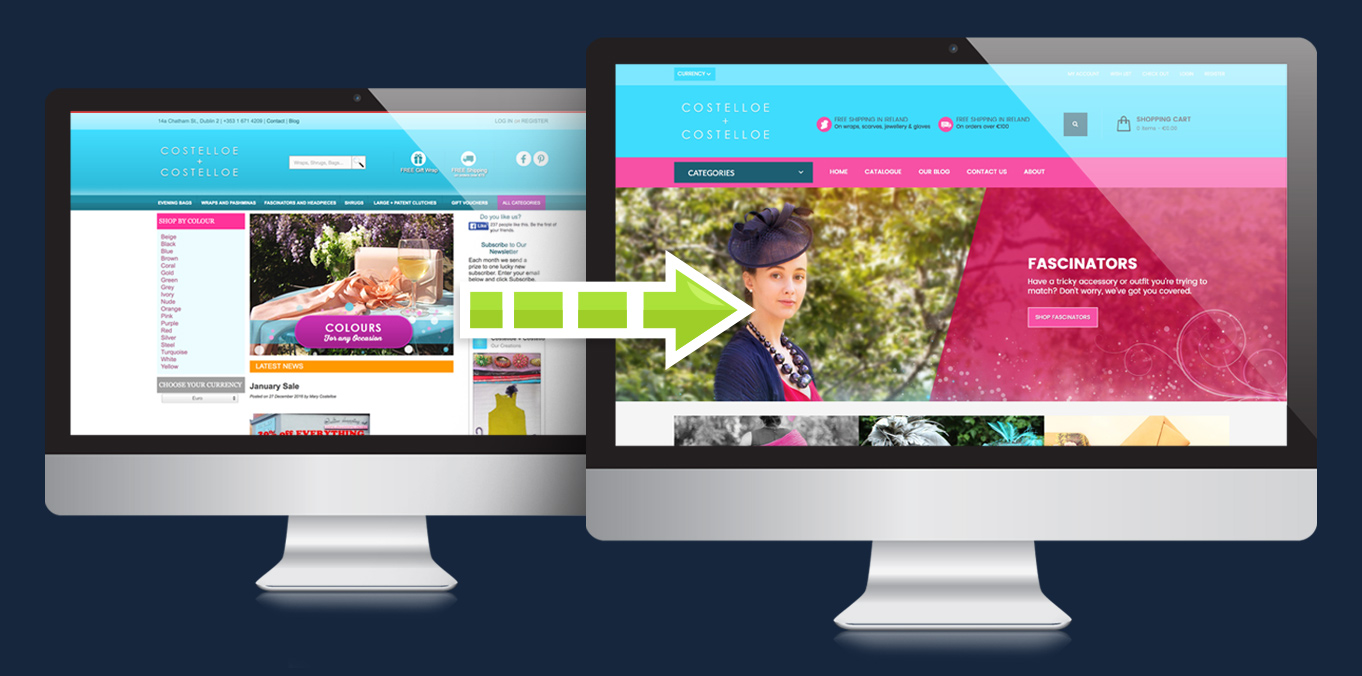 In the meantime, Shopify had come to prominence as a fantastic eCommerce platform. Lightyear had become Ireland's First Certified Shopify Experts, becoming part of its continued development, so we knew Shopify was the best choice when the time came for Costelloe + Costelloe's website to be upgraded. We can happily say the sales have increased on the site since the redesign with an enhanced user experience and a better mobile display being the key reasons for this.
Costelloe and Costelloe upgraded their online store and reaped the rewards. It wasn't just the users who benefited, they did too. Powered by Shopify, Mary and Margaret now have an online store that they can easily manage and keep up to date.
When is a good time for a website redesign?
There's no golden rule but a redesign should be purpose driven. In Costelloe + Costelloe's case, it was to deliver a better user experience (particularly on mobile) and an easier to manage backend.
Ultimately, the decision to revamp your website depends on a number of factors:
Have your products or services changed?
Are your users able to find what they want quickly?
Does your current site fail to deliver a great user experience on all devices?
Are competitors outranking you in search results?
Is it a painful process for you to update the site?
Some sites can stay fresh for years; others seem dated just a couple of months in. Generally, I would recommend a good website redesign every three years. If you find yourself answering yes to some of the questions above then it could be time for a redesign now. Get in touch with us and we'll see how we can help.